Our Story
Mikono "Hands" in Swahili was established in 1993 as part of the livelihoods programme of Jesuit Refugee Service with the support of Fr James Martin SJ to provide a vehicle for the sale of crafts goods made by refugees in the Nairobi area. Mikono operates as a non-profit organisation that markets handcrafts in the local market, as well as for export.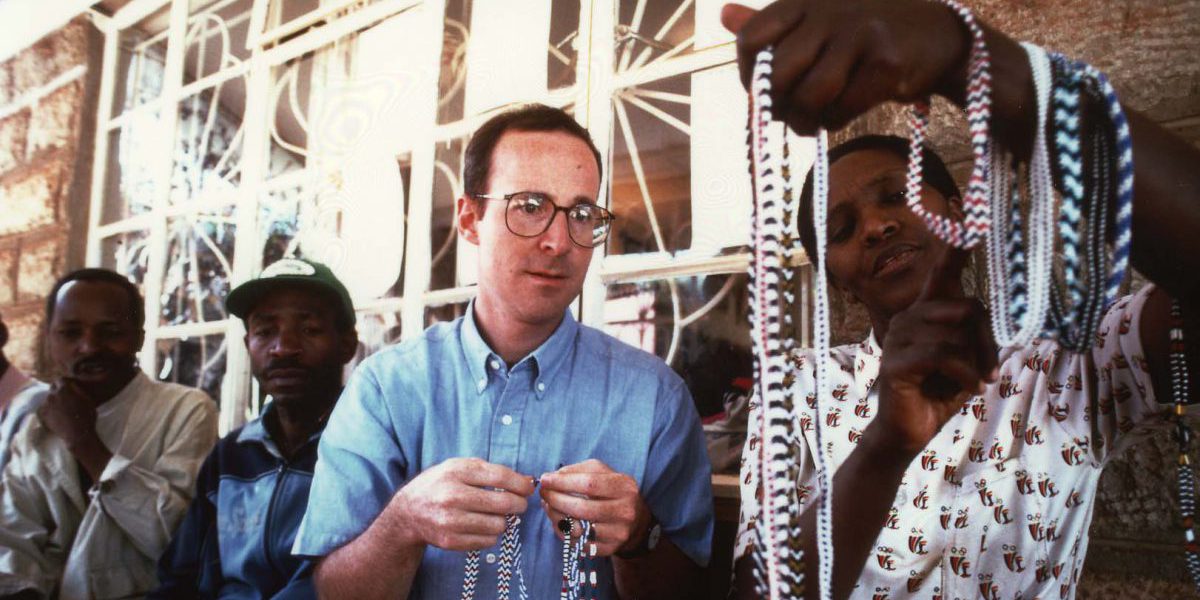 Mikono works with 75 suppliers living in or around Nairobi, from over 10 different nationalities. Each of them bring unique skills learned either in their home countries, or through livelihood training provided by JRS. When you shop at Mikono, you help a refugee make a living. 
Here are some of their stories, and how they became part of ours:
Andrew
 arrived in Kenya in 1997. He had some craftsmanship knowledge, but in the struggle to survive he deep dived in this field. He shares that
"By loving what we do, we learn a lot. When I see a happy customer, and their appreciation, it motivates me."
 Andrew started supplying to Mikono in 1994, and since then craftsmanship helps him pay for rent, food for his family, and his children's education. He wishes to send a message to other refugees:
"There is no such thing as a foolish job."
Triphose & The Pathwork
Triphose arrived in Kenya in 1997. During her high-school years she studied "Arts Management" which included "couture, cuisine and nettoyage". She never knew those skills could help her make a living, until in 1998 she began doing hand embroidery. The following year she joined Kangemi Women Empowerment Centre to improve her stitching, and was able to get a sewing machine from JRS. In 2003, she enrolled in college to pursue Fashion and Design. When the market is good, her craft work allows her to pay or rent, food, clothing and children's schooling. She has been supplying to Mikono for over 20 years, stitching her patchwork with the support of her husband. In her testimony, Triphose tells other refugees: "Try to be flexible, and think outside the box. It is possible to survive despite the suffering and challenges that exile brings". She acknowledges it is not easy in exile to find a job, with the qualifications they once had at home.
Triphose is the queen of the Patchwork Collection. She believes that patchwork products are an expression of the power of unity and the beauty of diversity. The embodiment of God's imagination that made us all humans, unique and important-- regardless of how big or small each person's contributions are to society; they are irreplaceable. If you remove one small piece of the fabric used to make an apron, you will leave a hole; making the apron unusable.
Hamisi is one of the few jewelers supplying at Mikono
, he is from DR Congo, and arrived in Kenya in 2001. Hamisi didn't study for this, he says it was a gift from God, and was born with it. His bracelets, earrings, and beautiful necklaces are mainly made of green magnet gemstones, and are his main source of his income. Hamisi is totally dependent on his handcrafts because his market options are limited, given his refugee status. He tells other refugees that any skill, given by nature or nurture, can help them make a living. Their hands is all they need.
Justine is one our youngest suppliers, he is Burundian and came to Kenya a few years ago. He learned design in college, and started supplying to Mikono in 2018. Justine shares that his handcrafts are his only source of income. When asked what message he would share to other refugees, he suggests to his refugee friends to learn the use of digital platforms in order to showcase their work, and be able to share their skills to the world. Otherwise, they stay in the shadows.